Il Premio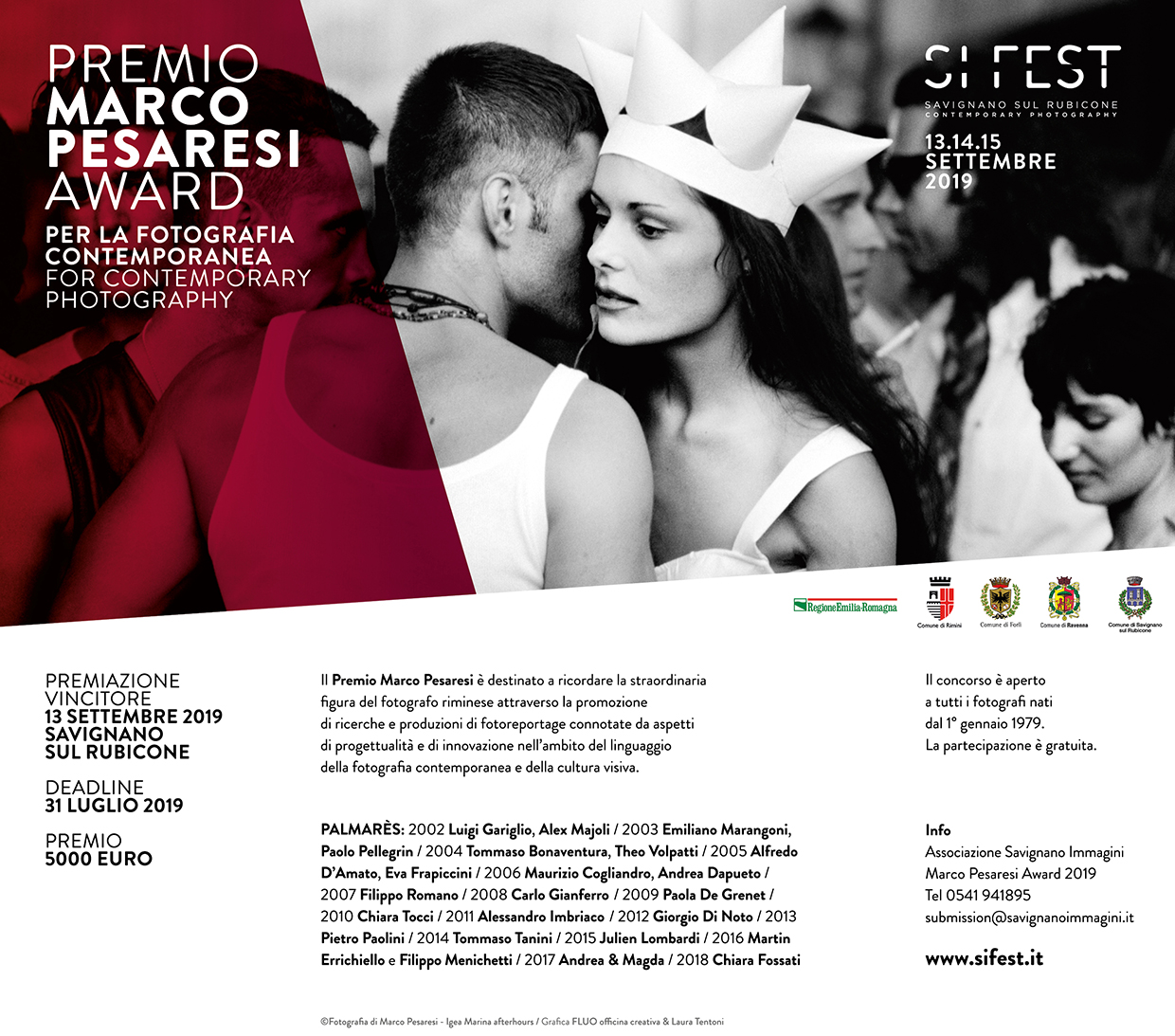 Premio Marco Pesaresi per la fotografia contemporanea
Il
Premio Marco Pesaresi per la fotografia contemporanea
è promosso dal Comune di Savignano sul Rubicone in partnership con i Comuni di Forlì, Ravenna e Rimini e in collaborazione con "Savignano Immagini" (segreteria organizzativa).
Il Premio Marco Pesaresi, giunto alla diciottesima edizione, è destinato a ricordare la straordinaria figura del fotografo riminese
Marco Pesaresi
attraverso la promozione di ricerche e produzioni di fotoreportage connotate da aspetti di progettualità e di innovazione nell'ambito del linguaggio della fotografia contemporanea e della cultura visiva.
Il concorso è aperto a tutti i fotografi di ogni nazionalità nati dopo
l'1 gennaio 1979 compreso
.
La partecipazione al Premio è gratuita.
Il valore del Premio è di
5.000,00 euro (cinquemila//00 euro)
al lordo di ogni tassa e imposta e di eventuali oneri previdenziali.
Le fotografie, raccolte in portfolio, dovranno preferibilmente trattare una singola tematica, capace di suggerire un progetto fotografico che l'autore intende portare a termine grazie al finanziamento del Premio. I progetti candidati dovranno essere originali, non devono essere stati pubblicati o esposti nella medesima forma e/o contenuto.
Il progetto fotografico, realizzato grazie al contributo del Premio, sarà esposto in mostra alla successiva edizione del SI FEST.
Per partecipare alla selezione i lavori (massimo 20 foto) dovranno essere inviati alla segreteria del Festival tramite mail o spedizione del cd (file estensione .jpeg / dimensioni lato lungo cm. 30 / 72 dpi), unitamente a un testo di presentazione che illustri il progetto fotografico da realizzare, a una breve biografia artistica e alla scheda di iscrizione, entro
mercoledì 31 luglio 2019
.
La segreteria organizzativa ha la facoltà di posticipare la data di scadenza del bando.
mail:
submission@savignanoimmagini.it
Savignano Immagini
Premio Marco Pesaresi 2019
c/o Vecchia Pescheria
corso Gino Vendemini, 51
I - 47039 Savignano sul Rubicone (FC) ITALY
Ph (+39)0541.941895
www.sifest.it
La candidatura sarà accettata solo se saranno completati tutti i campi obbligatori del modulo di iscrizione scaricabile dal blog alla pagina:
A chiusura del bando, agli autori dei lavori e progetti selezionati dalla giuria sarà richiesto, in tempo utile, di far pervenire a proprie spese o di consegnare alla segreteria del Festival in busta chiusa le stampe dello stesso portfolio inviato via mail o contenuto nel cd (massimo 20 foto lato dimensioni lungo cm. 30) entro
venerdì 30 agosto 2019.
La segreteria del Premio Pesaresi non è in nessun caso responsabile di danneggiamenti, perdite, ritardi, errati e/o mancati recapiti.
Il Premio sarà attribuito da una giuria qualificata.
La decisione finale, condotta secondo una valutazione qualitativa, è inappellabile e insindacabile.
La giuria si riserva il diritto di modificare le condizioni e le procedure del presente bando prima della data della sua conclusione. In tal caso la giuria stessa provvederà a darne adeguata comunicazione.
La giuria non assume responsabilità per qualsiasi problema o circostanza di forza maggiore che possa inibire lo svolgimento o la partecipazione al presente bando.
La giuria è autorizzata, se lo riterrà opportuno, a non assegnare alcun premio.
Il vincitore del Premio Pesaresi sarà proclamato
venerdì 13 settembre 2019
, nell'ambito della inaugurazione del XXVIII edizione SI FEST.
Il vincitore si impegna a presentare i risultati della propria ricerca e a produrne interamente l'allestimento, in modalità da concordare, alla prossima edizione del SI FEST 2020.
I cd inviati dai concorrenti e le stampe dei portfolio degli autori selezionati rimarranno in dotazione dell'Archivio di fotografia contemporanea d'autore costituito dal Comune di Savignano sul Rubicone al fine di conservare, ordinare, valorizzare e diffondere ad esclusivo scopo di studio e di conoscenza i materiali acquisiti nell'ambito delle attività del SI FEST e di Savignano Immagini.
Ogni tipo e modalità di utilizzo saranno preventivamente concordati con l'autore.
Il copyright rimane del fotografo o di altra persona che ne detenga i diritti.
Il Premio in denaro dovrà essere utilizzato per le spese generali e/o parziali del progetto (p. es. viaggi, trasferte, soggiorni, permessi, traduzioni, collaborazioni, ecc.).
Il SI FEST metterà a disposizione del vincitore un tutor che seguirà nel periodo ottobre 2019 – settembre 2020 lo sviluppo del progetto. Il vincitore dovrà presentare un report in cui descrive lo stato di avanzamento dei lavori attraverso l'invio della documentazione (fotografie, testi, video, ecc.) secondo le seguenti scadenze:
- 31 dicembre 2019;
- 31 marzo 2020;
- 30 giugno 2020.
Il vincitore si impegna a fornire entro il 30 giugno 2020 i materiali per la promozione e la pubblicazione del catalogo generale del SI FEST 2020:
- immagini in alta risoluzione (formato TIFF, risoluzione 300 dpi, cm 20 di base), complete di liberatoria, didascalia, copyright ed eventuali courtesy;
- un testo di presentazione del progetto;
- la proposta, entro data stabilita dalla segreteria organizzativa, di un piano di allestimento della mostra (in caso il vincitore desiderasse essere presente durante le fasi di allestimento/disallestimento dovrà farsi carico delle spese di viaggio, vitto e alloggio);
- la mostra fotografica completa e pronta per l'allestimento.
Il vincitore 2019 è tenuto a presenziare alle giornate inaugurali del SI FEST, settembre 2020, intervenendo se e quando richiesto a eventuali incontri, dibattiti, visite guidate, facendosi carico delle spese di viaggio.
Dal momento della proclamazione del Premio fino all'esposizione al SI FEST 2020 il vincitore non potrà in alcun modo diffondere, pubblicare, esporre in qualsiasi modalità, in Italia e all'estero, il progetto nelle forme che siano ad esso riconducibili pena l'esclusione dal Festival e la sospensione del Premio in denaro.
Il Premio verrà corrisposto al vincitore dal Comune di Savignano sul Rubicone al termine del SI FEST 2020, dietro verifica del rispetto delle clausole previste nel bando.
I partecipanti concedono gratuitamente all'Associazione Savignano Immagini i diritti delle opere e dei testi rilasciati al Premio per il sito internet della manifestazione e le varie forme di promozione.
L'iscrizione al Premio implica l'accettazione automatica di tutti gli articoli del presente.
La corresponsione del Premio avverrà in conformità con le disposizioni legislative in vigore.
Avvertenze ai sensi del Regolamento UE 2016/679 in materia di protezione dei dati personali:
Le informazioni trasmesse sono da intendere solo per la persona e/o ente a cui sono indirizzate, possono contenere documenti confidenziali e/o materiale riservato. Qualsiasi modifica, inoltro, diffusione o altro utilizzo, relativo alle informazioni trasmesse, da parte di persone e/o enti, diversi dai destinatari indicati, è proibito ai sensi del
Regolamento UE 2016/679
in materia di protezione dei dati personali
---
Marco Pesaresi Award for Contemporary Photography
The Marco Pesaresi Award for Contemporary Photography is a prize organized by the municipality of Savignano sul Rubicone in cooperation with the municipalities of Forlì, Ravenna and Rimini in partnership with Savignano Immagini (the management office).
This year, the Marco Pesaresi Award celebrates its 18
th
anniversary. The prize was founded in honour of
Marco Pesaresi
, an outstanding photographer from Rimini, to promote concept-driven, innovative photo-reportage research and projects created in the context of the language of contemporary photography and visual culture.
The competition is open to photographers of all nationalities born on or after
1 January 1979
. Entry is free of charge.
The award is in the amount of
5,000 Euros
, gross (i.e. it may be subject to tax and other social-security contributions).
The photographs should be presented as a portfolio, and should ideally focus on a single theme, one suggesting a photographic project that the artist intends to complete by using the funding provided by the Award. The projects entered must be original and not have been published and/or exhibited in the same format and/or content.
The photography project that will be completed by virtue of the prize money shall be exhibited at SI FEST next year, i.e.
SI FEST 2020
.
To be included in the selection, the works (max. 20 photographs) must be submitted to the Festival administration office via email or on CD (.jpeg files / height: 30 cm / 72 dpi) no later than
Wednesday 31

st

July 2019
, together with an outline of the photography project to be completed, a brief artist biography, and the application form.
The management office has the power to postpone the competition deadline should the need arise.
email:
submission@savignanoimmagini.it
Savignano Immagini
Marco Pesaresi Award 2019
Vecchia Pescheria
corso Gino Vendemini, 51
I - 47039 Savignano sul Rubicone (FC), Italy
Tel: (+39) 0541 941895
web site:
www.sifest.it
Applications will be accepted only if all the required fields on the form are filled in. Forms can be downloaded from the following blog page.
The photographers of the projects selected by the Jury will be invited, after the competition deadline, to send prints of the photographs contained in the portfolio they have submitted by e-mail or on CD, or have them otherwise delivered in a sealed envelope (20 photos, hight 30 cm), at their own expense, to the Festival administration office by
Friday 30

th

August 2019
.
The Marco Pesaresi Award administration office shall not be held liable for any damage to, loss of, or delayed or failed delivery of such materials.
The Award shall be granted by a qualified Jury.
Its decision shall be based on a qualitative assessment and be final and irrevocable.
The Jury reserves the right to amend the Award rules before the deadline. Any such amendment will be duly notified.
The Jury shall not be held liable for any occurrence beyond its control that may hamper participation in the competition or prevent the competition itself from being held.
The Jury is authorized not to award a prize if it so deems appropriate.
The winner of the Marco Pesaresi Award will be announced at the opening of the 27
th
annual
SI FEST
in Savignano sul Rubicone, on
Friday 13

rd

September 2019
.
The winner undertakes to present the results of his/her research and to make all the physical arrangements for an exhibition thereof at SI FEST 2020, in accordance with procedures to be arranged.
The CDs submitted by participants and the photographs in the portfolios of the selected photographers shall become part of the Contemporary Fine Art Photographic Archive (
Archivio di fotografia contemporanea d'autore)
created by the Municipality of Savignano sul Rubicone in order to conserve, organize, show to advantage and publicize the materials acquired within the context of SI FEST and Savignano Immagini, for the sole purpose of the study and knowledge thereof.
All use of such materials shall be agreed with the photographer in advance.
© The copyright shall be owned by the photographer or another duly authorized person.
The money of the Award shall be used to cover the general and/or related expenses of the project (such as travel, subsistence, board and lodging, licence fees, translations, professional assistance, etc.).
SI FEST shall make available to the winner a tutor who from October 2019 to September 2020 will follow the progress of the project. The winner shall provide a report in which by sending documentation from time to time (by the deadlines set forth below) in the form of photographs, texts, and reports she or he shall demonstrate the state of advancement of the works:
- 31 December 2019;
- 31 March 2020;
- 30 June 2020.
The winner shall undertake to provide not later than 30 June 2020 the materials for the promotion and publication of the general catalogue for SI FEST 2020:
High resolution images (format TIFF, resolution 300 DPI, base 20 cm) together with release, captions, copyright and acknowledgements, if need be;
Project presentation text;
A proposal for an exhibition mounting plan, by a date to be set by the organization office (in the event that the winner wishes to be present during the process of mounting and dismounting the exhibition, she or he shall bear the related travel, board and lodging expenses herself/himself;
The complete photography exhibition, ready for mounting.
The winner shall also undertake to attend the opening days of SI FEST 2020, in September 2020, to take part in such encounters, discussions and guided visits as may arise, and to assume the related travel costs.
The winner of the Award shall grant exclusive rights to this presentation to SI FEST 2020.
From the time of the announcement of the Award until the exhibition at SI FEST 2020 the winner may in no wise distribute, publish or exhibit in any form whatsoever in Italy or elsewhere the project in any form that may derive from it on pain of being banned from the Festival and having the prize money withheld.
The Award shall be presented to the winner by the Municipality of Savignano sul Rubicone at the end of SI FEST 2020, subject to confirmation that she or he has abided by the conditions set forth in the Award rules.
Participants shall freely concede to the Associazione Savignano Immagini the rights to such of their works and texts as they have submitted to the Festival, for use on the internet website of the event and other forms of promotion.
An application to take part in the competition shall imply the automatic acceptance of all the aforementioned provisions.
The payment of the Award shall take place in accordance with the legal provisions in force.
Notice given in accordance with EU Regulation 2016/79 on the protection of personal data
:
All the information that is sent is intended solely for the person and/or bodies to whom they have been addressed and may contain confidential documents and/or limited access material. Any change, forwarding, distribution or other use by persons and/or bodies other than the indicated addressee with regard to the information that has been sent is forbidden under the terms of EU Regulation 2016/79 on the protection of personal data (as amended in 2018).